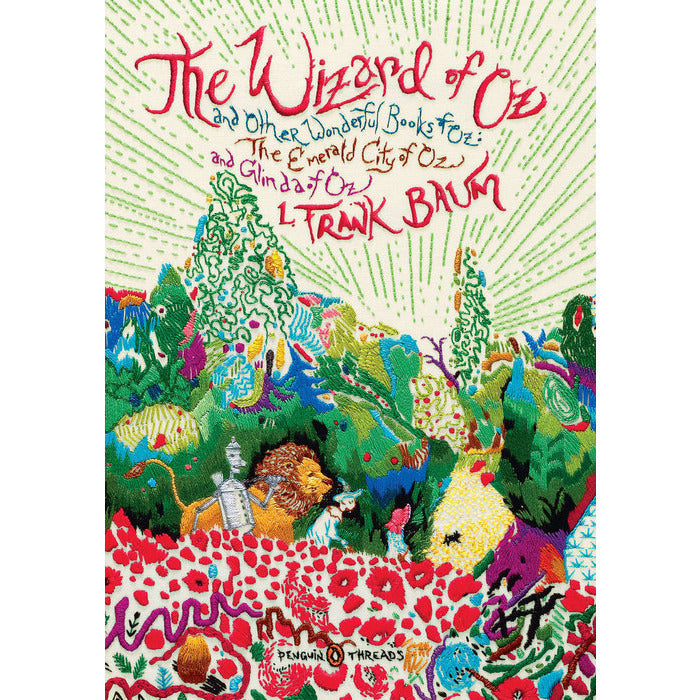 The Wizard of Oz: And Other Wonderful Books of Oz
$17.00
Brand Penguin Random House
Product Description
The coveted and award-winning Penguin Threads series continues with three more enchanting, beautifully sewn covers by a talented visual artist


With paper and pen or needle and thread, storytelling has many traditions. Penguin's award-winning art director Paul Buckley presents Penguin Threads, a series of Penguin Classics Deluxe Editions inspired by the aesthetic of handmade crafts with specially commissioned cover art. Jillian Tamaki's embroidered artwork appears on The Secret Garden by Frances Hodgson Burnett, Emma by Jane Austen, and Black Beauty by Anna Sewell. This latest set features three beloved classics for both adults and children with cover art by painter and illustrator Rachell Sumpter. Sketched in a traditional illustrative manner, the final covers are sculpt embossed and present full front and reverse hand-stitched designs. Through story, style and texture, the Penguin Threads is an exciting chapter in Penguin's long history of excellence in book design, for true lovers of the book, design, and handcrafted beauty.


This fully annotated volume collects three of Baum's fourteen Oz novels in which he developed his utopian vision and which garnered an immense and loyal following. The Wizard of Oz (1900) introduces Dorothy, who arrives from Kansas and meets the Scarecrow, the Tin Woodman, the Cowardly Lion, and a host of other characters. The Emerald City of Oz (1910) finds Dorothy, Aunt Em, and Uncle Henry coming to Oz just as the wicked Nome King is plotting to conquer its people. In Baum's final novel, Glinda of Oz (1920), Dorothy and Princess Ozma try to prevent a battle between the Skeezers and the Flatheads. Tapping into a deeply rooted desire in himself and his loyal readers to live in a peaceful country which values the sharing of talents and gifts, Baum's imaginative creation, like all great utopian literature, holds out the possibility for change. Also included is a selection of the original illustrations by W. W. Denslow and John R. Neill.
Author: Lyman Frank Baum
Publisher: Penguin Random House

Paperback: 432 pages
Ages: 10+

Lyman Frank Baum was born in Chittenango, New York, on May 15, 1856. Over the course of his life, Baum raised fancy poultry, sold fireworks, managed an opera house, opened a department store, and an edited a newspaper before finally turning to writing. In 1900, he published his best known book The Wonderful Wizard of Oz. Eventually he wrote fifty-five novels, including thirteen Oz books, plus four "lost" novels, eighty-three short stories, more than two hundred poems, an unknown number of scripts, and many miscellaneous writings. Baum died on May 6, 1919. He is buried in the Forest Lawn Memorial Park Cemetery, in Glendale, California.
}