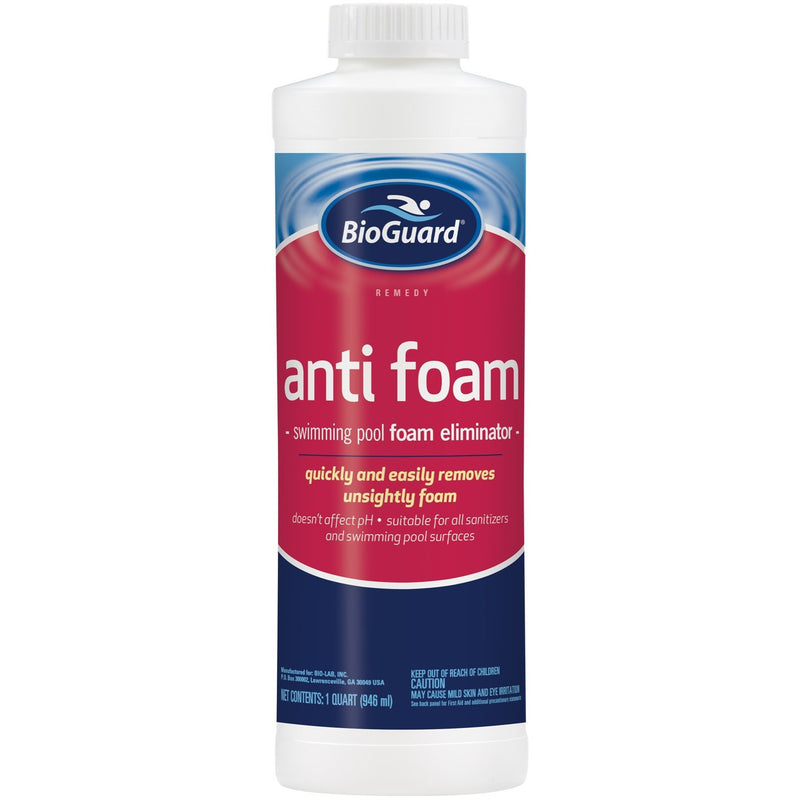 BioGuard Anti Foam (1 qt)
$25.99
Brand BioGuard
Product Description
BioGuard Anti Foam is an excellent way to remove annoying foam buildup in your pool, spa, hot tub or ornamental fountain, leaving your water crystal clear in seconds. Foam can build up because of lotions, oils, soaps, and other organic compounds left by swimmers or bathers and react with chemicals in your pool. Anti Foam's powerful liquid formula neutralizes it quickly and can be used multiple times on especially heavy buildup without fear of any adverse reactions. Best of all, this product is made right here in the USA to ensure the highest quality, allowing you to buy with confidence.
Pool Dose:

2 fl oz per 5,000 gallons of water.

Spa Dose:

1 tsp per 200 gallons of water.

Use 2 ouncs of this product per 5,000 gallons of water to prevent and eliminate foaming in swimming pools. Use 1 teaspoon of this product per 200 gallons of spa or hot tub water to prevent and eliminate foaming in water. The amount of this product required depends on the conditions of the tub or pool and the amount of foam present. Repeat this dose as needed to control the foam. Once this product is introduces, the effect on the foam should be immediate. Large quantities may be required where tubs or pools have ben vandalized by the addition of soaps or detergents.
*Chemicals can only be shipped via UPS or FEDEX ground service
to the 48 contiguous United States
}