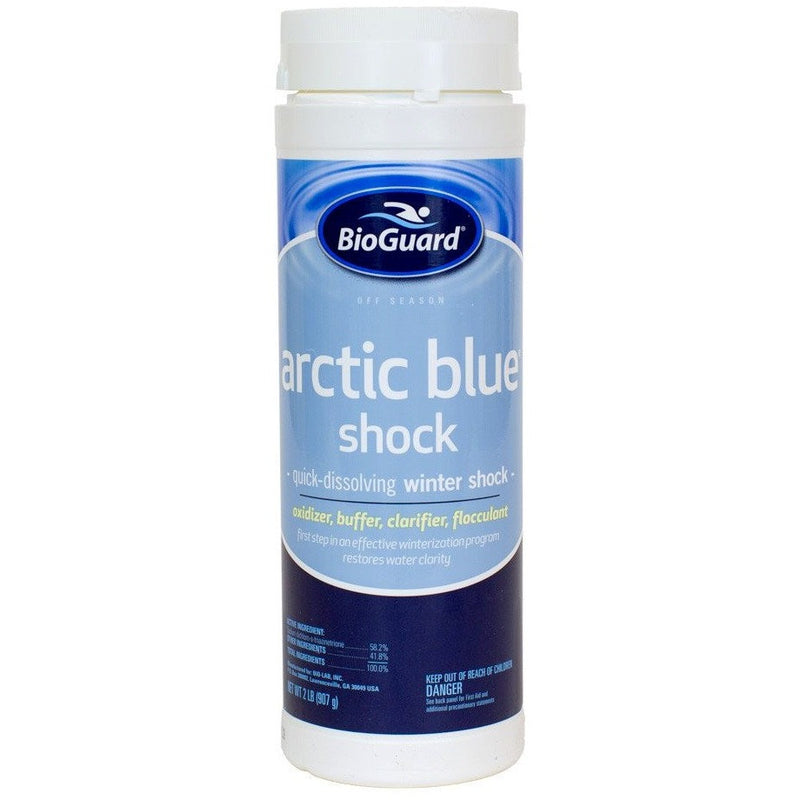 BioGuard Arctic Blue Shock (2 lb)
$19.99
Brand BioGuard
Product Description
BioGuard Arctic Blue Shock is the perfect first step in winterizing your pool, killing off bacteria, algae, and other contaminants that can wreak havoc on your pool during the long winter months. Its powerful granular formula can be quickly broadcast into your pool without needing dilution, saving you from handling messy liquids. When used in conjunction with an effective algaecide, your pool will stay clean and healthy throughout its winter slumber, making spring openings much faster and hassle-free. Best of all, Arctic Blue Shock is made right here in the USA to ensure the highest quality, allowing you to buy with confidence.
1 lb per 6,000 gallons of water.

Broadcast the entire dosage into the deep end of the pool.
Brush any undissolved product off the surface of the pool with a compatible brush.
Continue to circulate the pool for a minimum of 30 minutes before proceeding to the next step in the winterization process

It is recommended that as part of the closing procedures, a quality winterizing algaecide be applied following the application of this product.

For mesh covered or non-covered pools, a mid-winter treatment may be required using an appropriate BioGuard sanitizer.
Sodium dichloro-s-triazinetrione: 58.2%, Other Ingredients: 41.8%
*Chemicals can only be shipped via UPS or FEDEX ground service
to the 48 contiguous United States
}