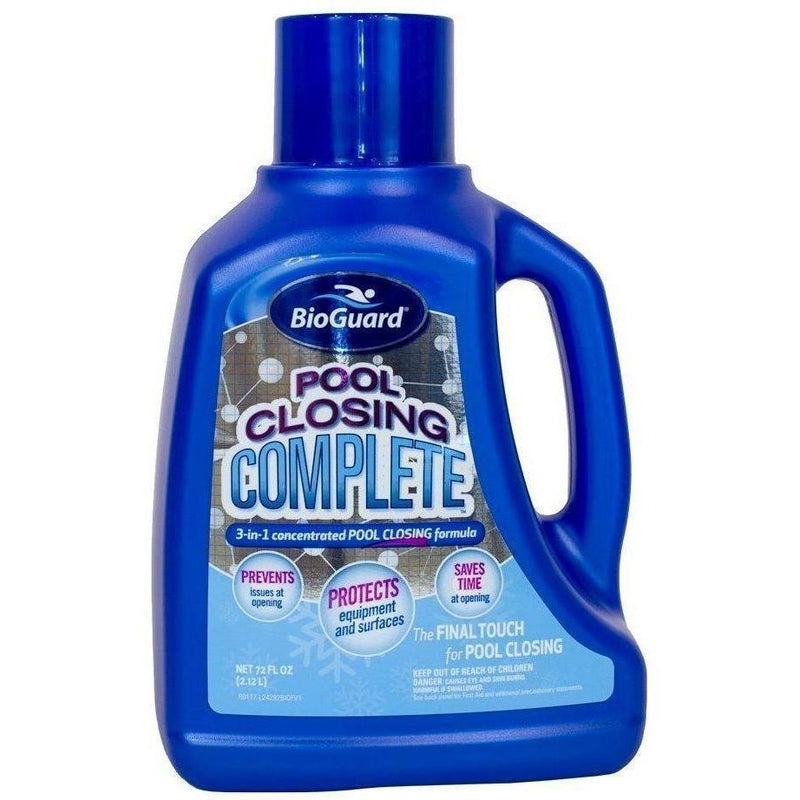 BioGuard Pool Closing Complete (72 oz)
$44.99
Brand BioGuard
Product Description
BioGuard Pool Closing Complete provides the final touch for pool closings. A concentrated 3-in-1 formula helps save time and prevent issues at opening as well as protecting pool surfaces and equipment during the cold weather months. This product works perfect with the BioGuard Arctic Blue Winter Kits.
Before Applying BioGuard Pool Closing Complete:

Make sure all pool equipment is working properly, including pump, filter, skimmer and heater. If needed, backwash and/or clean filter according to manufacturer's directions. Follow manufacturer's directions for winterizing equipment.

As Part of the Pool Closing Process:

Shake well before using. Apply entire bottle (72 fl oz) for up to 25,000 gallons of pool water. For pools less than 12,000 gallons, apply half the bottle.
Apply slowly and directly into water while walking around deep end of pool.
Allow pump and filter to operate for at least 2 hours after application.

*Chemicals can only be shipped via UPS or FEDEX ground service

to the 48 contiguous United States
1 bottle for pools Up to 25,000 gallons.

1/2 bottle for pools lees than 12,000 gallons.
}