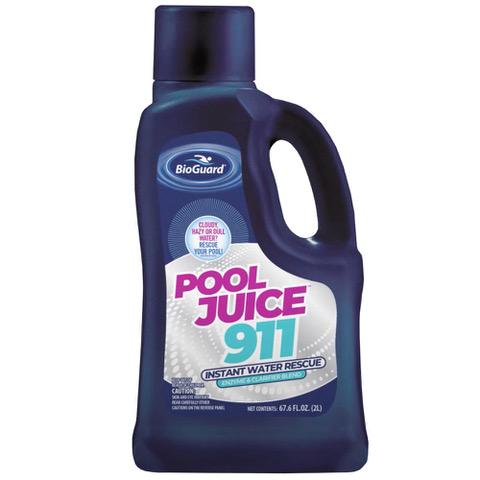 BioGuard Pool Juice 911 (2L)
$32.99
Brand BioGuard
Product Description
BioGuard Pool Juice 911 23776
When pool water is over-stressed from something other than phosphate (like after a pool party, a severe rainstorm or cleaning up after an algae outbreak), use BioGuard Pool Juice 911 to instantly rescue your pool or use it occasionally to help prevent cloudy water from happening at all... whenever, whatever your need!
Instant Water Rescue for cloudy/hazy or murky/swampy water
Targeted enzymes and high-powered clarifiers
Significant results in 24 hours, also for occasional use
2 fl oz per 1,000 gallons of water

To keep your water sparkling clear, apply this product at a rate of 2 fl oz per 1,000 gallons of pool water
Apply slowly and directly into water while walking around deep end of pool.
Allow pump and filter to operate for at least 48 hours after application.
*Chemicals can only be shipped via UPS or FEDEX ground service to the 48 contiguous United States
}