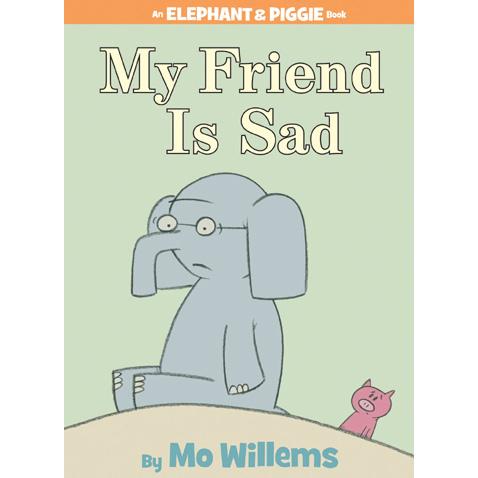 My Friend Is Sad
$9.99
Brand Disney-Hyperion
Product Description
Gerald is careful. Piggie is not.
Piggie cannot help smiling. Gerald can.
Gerald worries so that Piggie does not have to.
Gerald and Piggie are best friends.
In My Friend Is Sad, Gerald is sad. How can Piggie be happy if Gerald is sad?
Disney-Hyperion
Product Dimensions: 6.8 x 0.4 x 9.2 inches
Hardcover: 64 pages
By: Mo Willems (Author, Illustrator)
Series: An Elephant and Piggie Book
Age Range: 5- 8years

About the Author/Illustrator

#1 New York Times Bestselling author and illustrator Mo Willems has been awarded a Caldecott Honor on three occasions (for DON'T LET THE PIGEON DRIVE THE BUS!, KNUFFLE BUNNY: A CAUTIONARY TALE, and KNUFFLE BUNNY TOO: A TALE OF MISTAKEN IDENTITY) and his acclaimed Elephant and Piggie early reader series received the Theodor Seuss Geisel Medal in 2008 and 2009. He lives with his wife and daughter in Western Massachusetts. For more information, visit www.pigeonpresents.com.
}