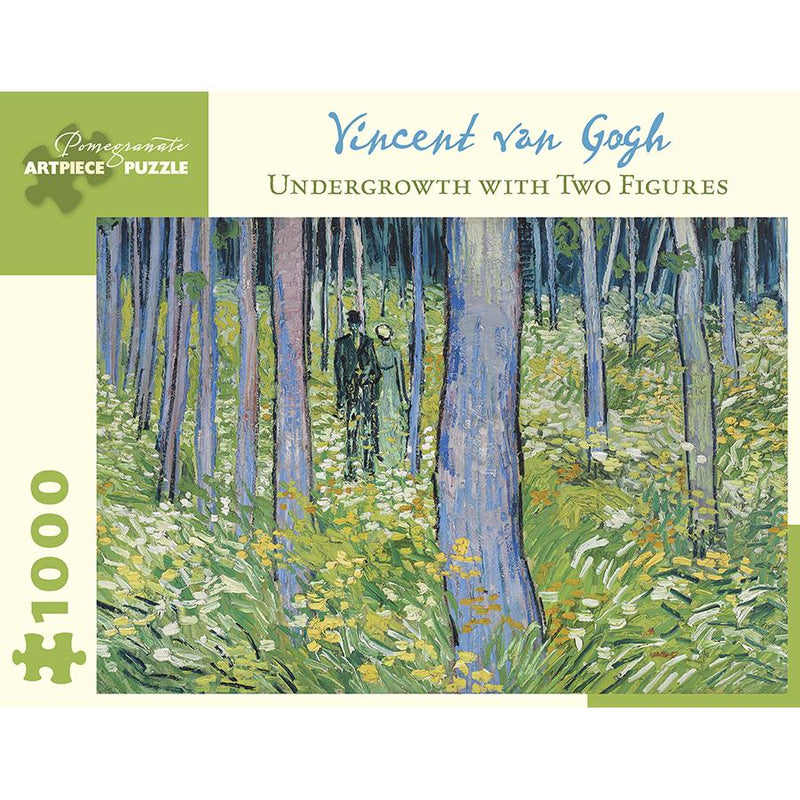 Pomegranate Van Gogh: Undergrowth-Two Figures 1000 pc Puzzle
$19.95
Brand Pomegranate
Product Description
Vincent van Gogh (Dutch, 1853–1890)
Undergrowth with Two Figures
, 1890
Painted the month before his death, Vincent van Gogh's
Undergrowth with Two Figures
bears a haunting quality. Amid the poplars, entangled by the floral undergrowth, two lovers stand arm in arm. Their faces disappear into the forest floor, ghostly.
This painting, however, was once more lively. In his later years, Van Gogh took risks with vibrant colors that were known to fade, among them the pigment geranium lake. From descriptions in his letters and through modern scans, we know that cheery pink flowers—now white—swayed amid the grasses, and those columnar blue trunks were once violet.
Though Van Gogh's hues have cooled, lost to time,
Undergrowth with Two Figures
is widely considered one of Van Gogh's masterpieces.
With subjects ranging from fine art, nature, and architecture to humor, the metaphysical, and more, Pomegranate's interlocking jigsaw puzzles combine stunning images, superb color reproduction, and sturdy construction to delight generations of novice and veteran puzzle solvers alike.
Puzzle Size: 25 x 20 in.

Box size: 10 x 13 x 1⅞ in.

1000 pieces

Ages 12+

/!\ WARNING: Choking Hazard—Item contains small parts. Not for children under 3.
}